Dental implant placement is a common surgery that provides prosthetics for those missing teeth. Its success depends not only on the operation itself, but on the process as a whole. Find out about the most important steps of the process in this article from the experts at Clinique MFML.
What are dental implants?
Dental implants are generally used to replace one or more missing teeth. But what are dental implants, exactly? They are small titanium screws that are 6 to 13 mm long and 3 to 6 mm in diameter. These artificial replacements for the roots of missing teeth are used to anchor crowns, bridges or dentures to the jawbone, ensuring that the prosthetics will not shift while chewing or speaking.
The lifespan of a dental implant is excellent—it can last 10 to 20 years, depending on the patient's general health and mostly the patient's oral hygiene. Even if dental implants are usually costlier than other types of dental prostheses, their longevity makes the best investment for the patient's oral health.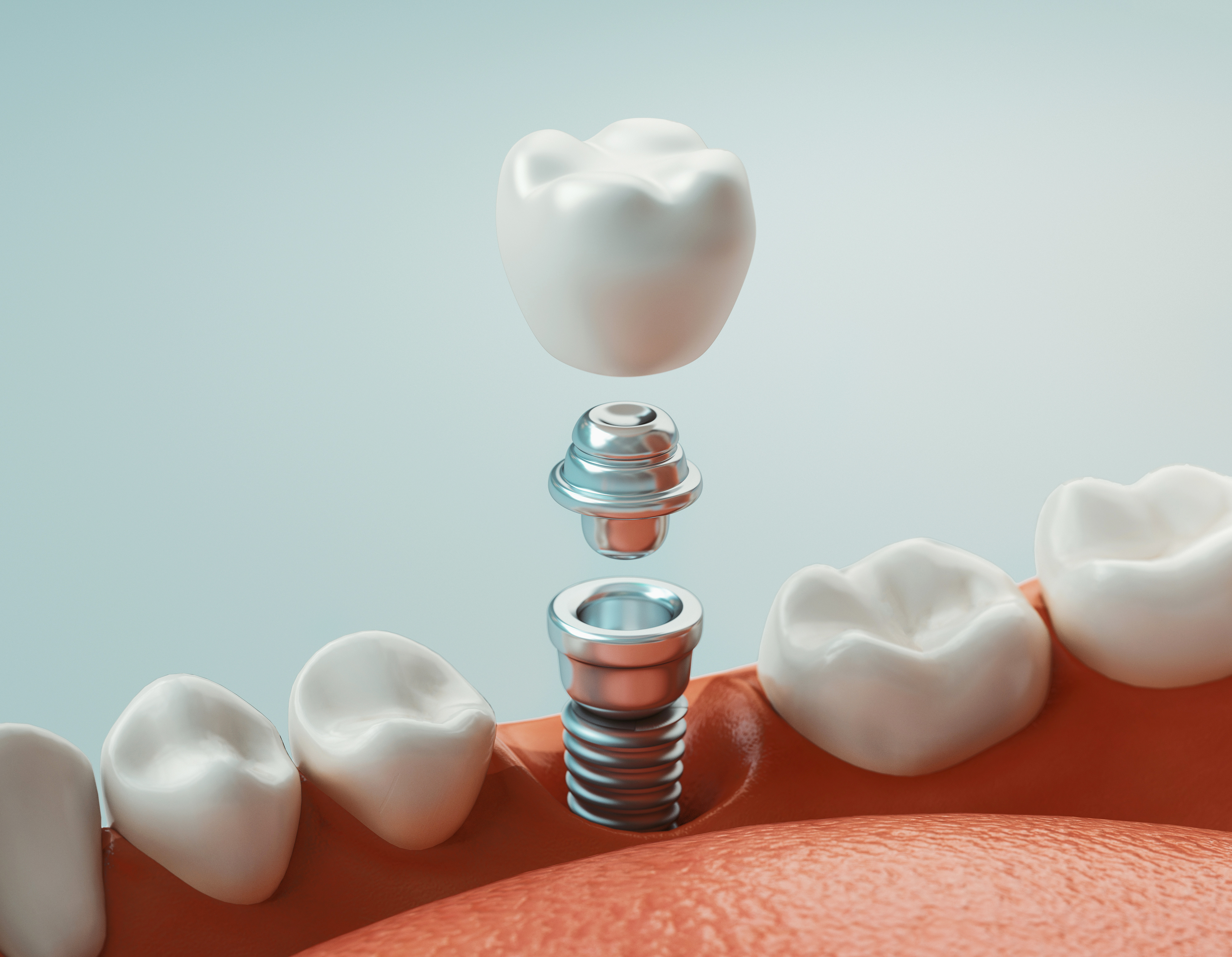 Whether it is performed for functional, aesthetic or medical reasons, dental implant placement is not a just a simple operation. The whole process must be planned and executed carefully for best results.
Dental implant placement: a carefully planned surgery
There are several steps that must be taken before the decision to proceed with dental implant placement can be made. First, you will be asked questions to determine whether a dental implant is the right solution for you.
You will be questioned about your reasons for wanting an implant. Perhaps tooth loss is causing you pain or difficulties such as preventing you from chewing or speaking clearly.
To ensure that dental implant placement is not contraindicated, your surgeon will meet with you several times, performing 3D dental x-rays and clinical exams to rule out any risk of complications. They may also take 3D images of the area where the implant will be placed and inform you of any preoperative instructions.
These steps to plan and prepare for the surgery must be taken to ensure that the dental implant placement goes smoothly.
Follow-up: the key to a long-lasting implant
Like any surgery, postoperative follow-up is very important after dental implant placement. The weeks following the operation will reveal whether the bone is growing properly around the implant, ensuring stability and durability.
This phase, called osseointegration, must be carefully monitored by your implant surgeon, who will be able to detect any anomaly in the healing process. They will then be able to determine the appropriate time to place a crown, bridge or denture depending on how your healing progresses.
While a dental implant may be a long-lasting solution, it's important to take care of it and have it examined regularly by your dentist during routine check-ups. That way, you'll be able to keep on top of any degradation that occurs and have the implants repaired or replaced if necessary.
Dental implant placement: consult a specialist
The success of dental implant placement depends not only on the surgery itself but on the entire process, including surgical and prosthodontic planning and postoperative follow-up. By asking questions about your background and performing proper x-rays, an oral and maxillofacial specialist will be able to determine the solution that best suits your situation.
Clinique MFML is a maxillofacial clinic with the expertise needed to perform dental implant placement in a safe, reliable way. If you'd like to find out more about the procedure or make an appointment, don't hesitate to contact us.