Clinique MFML is equipped with the latest high-precision 3D radiology technology.
Thanks to our Cone Beam Computed Tomography, our surgeons have the ability to virtually plan many of their surgical procedures. Whether for dental implant placement, orthognathic surgery planning, anatomical assessments for dental extractions or to evaluate maxillofacial lesions, 3D radiology is an indispensable tool for providing superior quality care.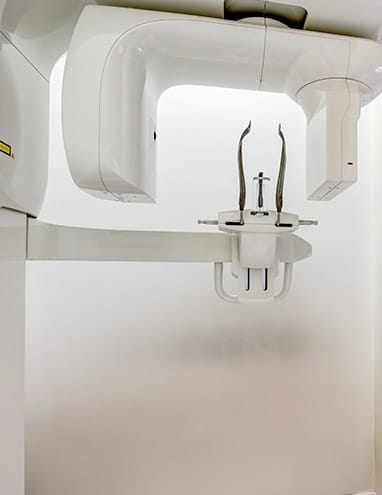 3D radiology: an important technical advance
We are past the point where specialists used two-dimensional radiography to determine a course of action for treatment. The arrival of the Cone Beam Computed Tomography (CBCT) technique has greatly simplified the surgeons' task and has made it possible to gather a great deal information that is essential for understanding the condition of your mouth and maxillofacial area.
The difference between traditional (2D) and 3D CBCT radiology rests mainly on the type of beam that is used. 2D radiography used a triangular fan-shaped beam to obtain one section of a single axis, a single image of the area being analyzed. The CBCT scan uses an X-ray cone beam to obtain a volume of the scanned area from which 3-dimensional images can be extracted.
Because it offers a three-dimensional representation of the patient's mouth, this medical imaging technique has made it possible to refine implantology procedures, jaw realignment, dental extraction surgeries and the discovery of various bone lesions.
3D radiology is an exceptionally valuable technological breakthrough for oral and maxillofacial surgeons. It has several advantages that allow us to offer you highly effective care with a high level of precision.
Greater amount of information
By enabling analysis of the treatment area from all angles, our 3D radiology scanning machine gives us crucial information about your bone density, bone anatomy and tooth and nerve positioning, among others. Its ability to generate hundreds of detailed 3-dimensional images has lead to it being recommended to plan most maxillofacial surgery treatments.
Due to its high precision, 3D scanning can also meet a multitude of diagnostic needs. This technique, compared to standard radiographs, provides more detailed images of small anatomical structures.
For example, the 3D scan provides the following information:
The presence of impacted teeth and their positioning in relation to neighbouring structures;
The nerve location inside the lower jaw;
The facial skeleton contour;
Temporomandibular joint bone analysis;
Sinus condition and anatomy;
Upper airway anatomy;
3-dimensional location of certain pathologies.
Better planning for optimal results
3D scanning allows our surgeons to carefully plan your treatments. With an in-depth knowledge of each case, our specialists will provide superior care for optimized and more predictable results. Virtual planning of the surgical procedure is possible thanks to 3D digitization for dental implants, orthognathic surgery and certain facial reconstruction surgeries. This way, the procedure is better planned and the surgical procedure better executed. In addition, you can have a better understanding of your condition and the treatments you will receive.
Lower X-ray dosage
Emitting a much lower dose of radiation than a conventional medical scanner, our CBCT equipment is one of the safest. This reduced radiation is due to a difference in volume acquisition technique.
Clinique MFML: the marriage of advanced technology and our expertise
In addition to providing you with state-of-the-art technology, our team's expertise allows us to provide you with exceptional quality care. Do not hesitate to make an appointment with Dr. Lenis to benefit from the Clinique MFML advantage.