Dr. Mathieu Lenis, DMD, FRCD(C)
Oral and maxillofacial surgeon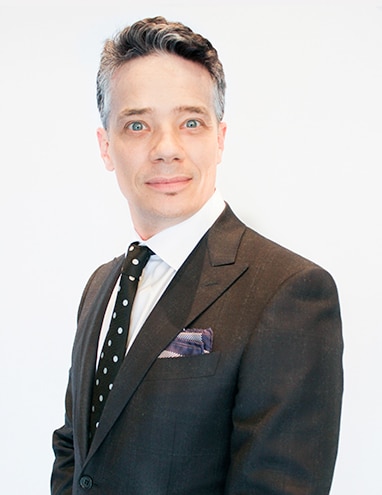 Oral and
maxillofacial surgery:
a lifelong passion
With the goal of offering the Montreal-area populace specialized services in high-quality maxillofacial surgery, Doctor Mathieu Lenis founded his first clinic in Lachine in 2003.
Dr. Mathieu Lenis received his Doctor of Dental Medicine in 1994 from the Université de Montréal. The following year, he completed a multidisciplinary residency at the Peninsula General Hospital in New York. In June 2000, he successfully completed the specialty program in oral and maxillofacial surgery at Université Laval.
His fields of activity extend across the entire domain of oral and maxillofacial surgery, including dentoalveolar and orthognathic surgery and implantology.
Recognized expertise
Dr. Lenis has recognized expertise, evidenced by the many distinctions and repeated mandates earned throughout his career. Currently, in addition to running two private clinics, he is the head of the Oral and Maxillofacial Surgery Department at the St. Mary's Hospital Center in Montreal and the Anna-Laberge hospital in Châteauguay.
In the past, he has also been part of the surgery and pathology department and guest lecturer in anatomy at the Université de Montréal. Since 2002, in addition to his clinical and academic activities, he has been a reviewer in his speciality at the Royal College of Dentists of Canada. He has also been an executive committee member of the Association of Oral and Maxillofacial Surgery Specialists of Quebec since 2005 and served as its President since May 2019.
Clinique MFML
In 2003, Dr. Lenis founded his first clinic in Lachine. It was not, however, until 2010 that it officially became Clinique MFML. Specializing in oral and maxillofacial surgery, it offered its Montreal clientele a full range of services. Committed to his patients' well-being, Dr. Lenis gave rise to a care centre that offers a personalized approach in a comfortable and reassuring environment.
Building on the success of his first clinic, he opened a second clinic on the South Shore of Montreal in Candiac in 2011 with the goal of propelling his services to an even higher quality standard.
Accompanied by qualified teams, they offer all the oral and maxillofacial treatments you may need.
At the cutting edge of technology
In addition to our team's expertise and professionalism, Clinique MFML uses reputable methods combined with state-of-the-art technology. Whether it's our 3d radiology, which allows us to produce a three-dimensional model of your mouth and precisely plan the appropriate treatments, or our surgical techniques that minimize pain and discomfort, rest assured that we make every effort to offer you the best experience possible.
Put your trust in the expertise of our specialist surgeons. For a consultation or for more information, do not hesitate to contact us by phone at  514 637-1606 (Montreal) or  514 394-7979 (South Shore), or by email at info@cliniquemaxillo.com.