To give yourself the smile you deserve, implants are the solution.
A genuine revolution in the world of dentistry, dental implants have drastically improved our patients' quality of life. They were designed to provide sufficient anchorage to enable the replacement of one or more missing teeth, whether by supporting a crown, bridge or a complete dental prosthesis. Dental implants are the best way to restore the appearance, ease and functionality of natural teeth.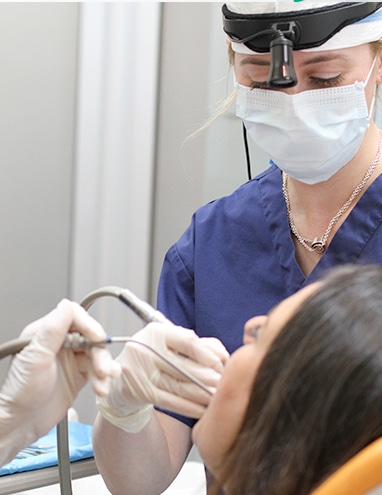 Dental implant functioning
The implant itself is a small piece, made of titanium, in the shape of a screw that your oral and maxillofacial surgeon will place in the most appropriate area. In the various phases of bone healing, the mandible or maxilla bone will produce an environment that is conducive to the stabilization and solidification of the implant in the jaw.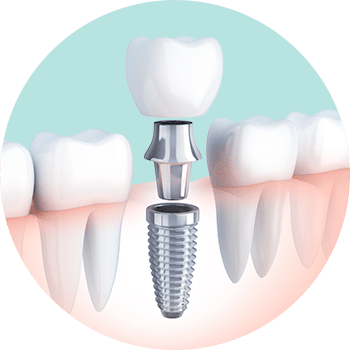 This set of processes is called osseointegration. The bone and the implant are fused together creating a robust foundation for the artificial tooth, capable of withstanding the repeated pressure of chewing.
Dental implant advantages
Placement of dental implants offers several advantages and is an ideal solution for the missing teeth, both from an aesthetic and practical point of view. Because the titanium implant is biocompatible, it replaces the natural root, slowing down and preventing bone atrophy that usually occurs after tooth loss. Moreover, it is a predictable and durable treatment option that does not cause any alteration to other teeth.
While the installation of a conventional bridge requires that at least two teeth be shaped to set it, dental implants allow a tooth to be replaced without having to remove dental substance and thus weaken the adjacent teeth.
Finally, most removable dentures cause instability, insecurity and mouth injuries. Dental implants provide a solid base to meet all the needs of patients that are dissatisfied with their prosthesis.
Dental implant procedure at Clinique MFML
Dental implants require a deep understanding of the function and aesthetics of the mouth, teeth, jaws and face. At Clinique MFML, our oral and maxillofacial surgeons are responsible for the surgical phase of the implant treatment. Our surgeons have earned their expertise with a complete specialized training. They stay up-to-date on the most recent advances in this area through continuous training. The work will be performed in cooperation with your dentist or a prosthodontist who will then make the artificial tooth or prosthesis.
If you are considering dental implants as a possible treatment avenue, make an appointment with our clinic. One of our specialist surgeons will meet with you and discuss whether the treatment is right for you. The assessment will be carried out with an appropriate clinical examination and radiological evaluation of the areas that are missing teeth. The surgeon will explain the treatment steps and inform you if a bone graft prior to the implant procedure may be necessary.
Recognized and certified experts