To give yourself the smile you deserve, implants are the solution.
Dental implantology is a comprehensive and reliable solution for replacing one, several or all of your missing teeth. Our implantology and maxillofacial surgery clinic offers state-of-the-art surgical and prosthetic treatments for each phase of the upper and lower jaw dental implant installation process.
Would you like to regain the appearance, ease and functionality of natural teeth? Trust Dr. Mathieu Lenis at Clinique MFML to help you regain a healthy mouth thanks to advanced dental implant treatments.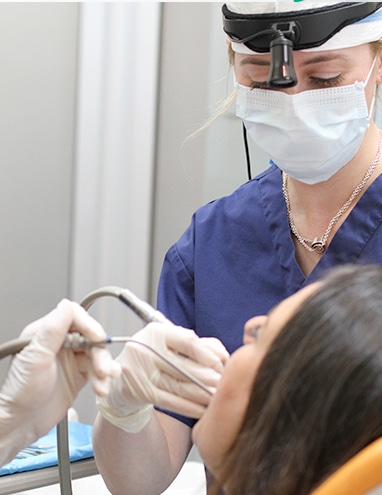 What are dental implants?
A dental implant is a small screw-shaped structure, usually made of titanium, which is placed in your upper or lower jaw by an oral and maxillofacial surgeon to replace the root of a natural tooth. An implant is designed to be perfectly compatible with the bone structure of the mandible (lower jaw) or maxilla (upper jaw), so that the bone will grow around the implant and contribute to a strong, stable jaw and dental structure.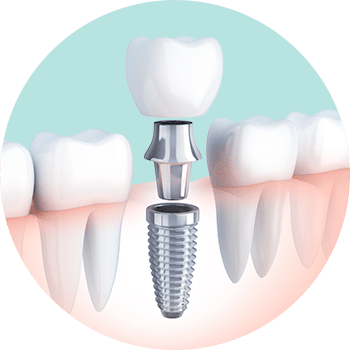 Once a dental implant is installed, the jawbone begins a healing process called osseointegration. As the bone heals, it bonds tightly to the surface of the implant, forming a solid base for the artificial tooth that will be attached to it. This process is essential, as it creates a stable connection between implant and bone, which enables the artificial tooth to effectively withstand the repeated pressure of chewing.
Benefits of dental implants
Dental implants can offer an ideal combination of aesthetics and functionality. By using a biocompatible titanium implant to replace a tooth's natural root, dental implants help slow and prevent the bone atrophy which is a common problem following the loss of one or more teeth.
Unlike some tooth replacement options, dental implants can guarantee stable, long-lasting results. When dental implants are installed, you don't have to worry about how they might affect other teeth. To install a bridge, for example, a dental surgeon will need to trim at least two adjacent teeth, which weakens your healthy teeth. A dental implant, on the other hand, can be installed to replace a single tooth without causing any damage to your remaining dentition. Dental implants make it possible to regain a radiant smile without compromising your oral health.
Why trust our maxillo-facial surgeons?
Installing one or more dental implants demands extensive knowledge of the function and appearance of the mouth, teeth, jaws and face. Dr. Lenis and his team share recognized expertise in this field, and we constantly keep abreast of the latest advances through ongoing training.
If you're considering dental implants, you can make an appointment with our clinic. One of our qualified surgeons will conduct a detailed clinical examination and CBCT scan of the toothless (edentulous) areas of your mouth. Following this assessment, the surgeon will clearly explain the various stages of possible treatment. Depending on your situation, they will also indicate whether bone grafting prior to implant placement is necessary to ensure a successful implant procedure.
We understand the importance of providing you with personalized care that is tailored to your individual needs. That's why our team is committed to supporting you throughout your journey towards dental implants, keeping you informed and answering any questions you may have along the way.
Dental implants: success rate and cost
If you're looking for a reliable, long-lasting alternative to traditional dentures, dental implants are the answer. With success rates ranging from 85% to 99% in ungrafted bone (depending on the location of the implant and the type of restoration) you can be sure you're making the right choice for your smile.
The cost of implants may vary depending on how many you need and the type of restoration you are looking for, but keep in mind that implants last longer than any other solution for missing teeth. These precision-engineered devices will stand the test of time, especially if you follow dental implant care guidelines, avoiding the need for frequent replacement. What's more, their positive impact on the health of your teeth and mouth in general makes titanium dental implants an economic option in the long term.
Clinique MFML is committed to providing a personalized approach, because we recognize that each patient is unique. Our highly-qualified maxillo-facial surgeons will explain every aspect of your treatment to you, both financial and medical.