COMPLEX EXTRACTIONS AND OTHER ORAL SURGERIES
Our clinic and our team specialize in oral and maxillofacial surgical care.
We offer comprehensive surgical care and expertise to treat and cure the most problematic conditions. Whether through our extensive knowledge or our state-of-the-art equipment and methods, we can provide you with the best care.
You can obtain a consultation by contacting us directly, or through a recommendation from your dentist. Certain cases require an appointment with a specialist in oral and maxillofacial surgery.
At Clinique MFML, our surgeons will ensure that you are evaluated and treated under the best possible conditions.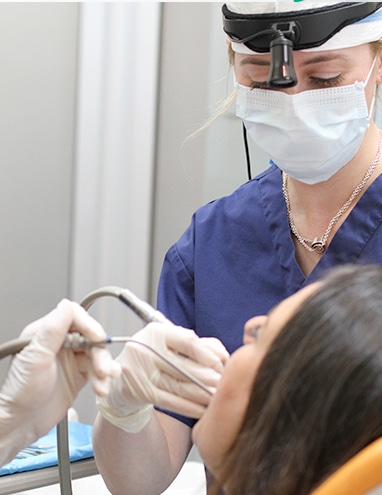 Not all dental extractions are complex. In fact, the majority of them are not. However, some patients have certain factors that make surgery more difficult than usual. As a result, you may need a specialist for a complex dental extraction. This is especially the case when the tooth is fractured or impacted.
Other elements may require consultation with a surgeon in our clinic. Certain special circumstances will create additional difficulties or risks and will require specific attention from the oral and maxillofacial surgeon during the procedure. For example, if you are taking a blood thinning medication, your operation will require increased attentiveness. This is also the case if you have an anatomical or medical aspect increasing the risk of the procedure.
In complex situations, your dentist may want to recommend our services and medical-surgical expertise so that you receive the best care possible.
Our specialists are trained to perform several other types of oral surgical procedures that may be necessary according to different problems. Your dentist could possibly recommend surgeries other than complex dental extraction and suggest a consultation with our surgeons.
In addition to our treatments for wisdom teeth, dental implants and orthognathic surgeries, we are able to offer you the best care for a multitude of problems. This includes, for example, the surgical exposure of an impacted tooth alongside orthodontic treatment, preprosthetic surgeries, bone grafts or an apicoectomy. Our specialists will be able to provide appropriate treatment in a comfortable and professional setting.
Our team: know-how for your well-being
Dr. Lenis is specialized in oral and maxillofacial surgery offer you recognized quality care and treatments. Backed by a professional and competent team, our two surgeons will be able to respond to your surgical needs with the goal of perfecting your smile and your oral health. Moreover, our clinic strives to maximize your comfort during and after your surgery. This is why we provide you with instructions so you can fully reap the benefits of your procedure. Do not hesitate to consult our surgeons in order to be well-prepared for your appointment.
If you would like to know more about our treatments or if you would like to make an appointment with one of our specialist surgeons, do not hesitate to contact us. A member of our team will happily answer you and direct you to the appropriate services. Rest assured that you will receive the best care at Clinique MFML! Contact us by phone at  514 637-1606 (Montreal) or  514 394-7979 (South Shore), or by email at info@cliniquemaxillo.com.