Dr. Anne-Frédérique Chouinard, DMD, MSc, FRCD (C)
Oral and maxillofacial surgeon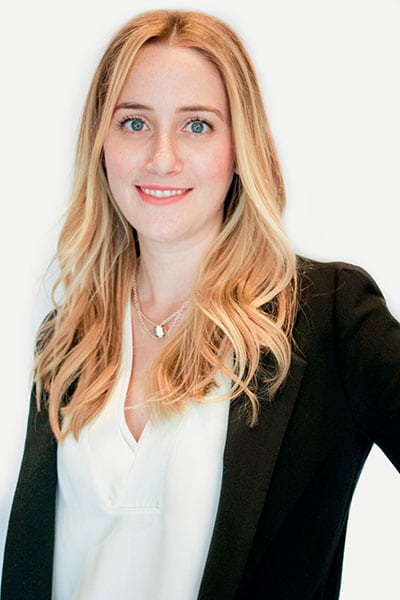 Joining Clinique MFML in 2016,
Dr. Anne-Frédérique Chouinard quickly
shared her passion and expertise.
Come and meet her!
Comprehensive and exemplary training
In 2009, Dr. Chouinard completed her Doctor of Dental Medicine at Université Laval. She subsequently began a year of multidisciplinary residency at the McGill University-affiliated Montreal Children's Hospital. In 2010, she began the five-year Oral and Maxillofacial Surgery specialty program at Université Laval, while simultaneously pursuing a Master's degree in Science at the same institution.
During these years of specialization, Dr. Chouinard stayed very active, participating in many professional activities. In addition to developing the maxillofacial scientific literature by publishing numerous articles and book chapters, she also took part in several conferences during which she presented the findings of her research and her work.
Always searching for opportunities to perfect her practice, Dr. Chouinard also did several courses in orthognathic and pediatric surgery over the course of her specialization, notably in Paris and Montpellier in France and Boston in the United States.
Sub-specialization in pediatric maxillofacial surgery
The knowledge attained by Dr. Chouinard throughout her professional and academic career is a tremendous asset to Clinique MFML. In addition to her speciality training, she holds a sub-specialization in pediatric maxillofacial surgery. In fact, she completed a year of fellowship of complementary training at the Massachusetts General Hospital of the prestigious Harvard University in Boston. During this year, she developed her surgical expertise for various facial malformations, several pediatric facial pathologies and fine-tuned her knowledge in orthognathic surgery. With this experience, she heads our clinic's pediatric department, which allows us to offer comprehensive care for both younger and older patients.
Sharing her expertise
Alongside her love for pediatrics and orthognathic surgery, Dr. Chouinard's interest and expertise extend to all spheres of oral and maxillofacial surgery. Her involvement in the environment goes beyond the limits of clinical practice. In addition to contributing her full expertise to the Clinique MFML and operating at the Centre Hospitalier Ste-Mary's as well as the Anna-Labelle and Sainte-Justine hospitals (where she founded the clinic for pediatric temporomandibular joint disorders), she is also an Assistant Professor in Oral and Maxillofacial Surgery at the Faculty of Dentistry of the Université de Montréal. Here, she has found an excellent way to pass on her know-how and expertise to future colleagues.
Clinique MFML: peerless expertise and know-how
With the help of Dr. Anne-Frédérique Chouinard's expertise and professionalism, Clinique MFML can offer its patients services and care of a quality not typically found anywhere else. Whether you need implants, a wisdom teeth extraction, or orthognathic surgery, you can put your trust in our team. We will be able to recommend suitable procedures for your situation and help you regain your health and smile.